Audi A4/S4 Exhaust Videos
Audi A4/S4 Exhaust System Tips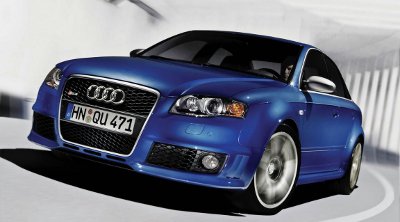 The Audi A4 is a stylish compact luxury sedan (or convertible) that when found with the correct engine under the hood can offer up some serious real-world performance. In addition to the potential offered by the standard editions of the Audi A4, the Audi S4 and its' hot rod Audi RS 4 sedan cousin provide all-wheel drive thrills that are on par with the best that Europe has to offer in their class.
Although the older, naturally-aspirated V6 versions of the Audi A4 see only limited gains from the installation of an aftermarket exhaust system, the extensive use of turbocharging and supercharging across the vehicle's more recent lineup means that there are plenty of horses to unlock through the use of a fully tuned exhaust system.
There are a currently three different engine choices available in the Audi A4:
A 2.0L, turbocharged four-cylinder unit providing 211 horsepower in the 2.0T.
A supercharged 3.0L V6 that pumps out 333 horsepower in the Audi S4.
A 420 horsepower, 4.2L V8 engine found in the Audi RS 4, which was available for the 2007 and 2008 model years.
The RS 4's phenomenal V8 engine sounds amazing right from the factory, but those who crave more of a muscle car sound can tweak and tune its exhaust note by installing aftermarket mufflers or experimenting with resonators. Both the 2.0T and the S4 are perfect candidates for power bumps through the judicious application of larger exhaust piping, free-flowing mufflers, performance catalytic converters and even down pipes on the turbo engine.
There are a few notable companies producing exhaust system options for the Audi A4:
As you can see, for the most part aftermarket exhaust options for the Audi A4, S4 and RS4 are restricted to the big names in American exhaust, with a few specialty European tuners thrown in for good measure. A number of even smaller companies are out there which cater to very specific Audi applications, and they could be worth investigation depending upon exactly what your exhaust needs and goals are.
Audi A4 / S4 / RS 4 Exhaust Recommendations
1. Quattro or front-wheel drive? Not all aftermarket exhaust systems are designed to snake their way around Audi's quattro all-wheel drive system. Make sure you check for compatibility with you car prior to ordering.
2. Turbo tuning. If you are going to make the most out of re-tuning your turbocharged car's ECU, then a full exhaust needs to be a part of the equation before you start altering any engine parameters.
3. Consider a simple muffler swap. The Audi RS 4 features an exhaust system that has already been designed to within an inch of its life. You can probably get the sound you want with a simple muffler swap – there's no need to drop big bucks on a full aftermarket system for what would most likely be minimal overall power gains.
Share your thoughts, post a comment.