Tahoe Exhaust Videos
Tahoe Exhaust System Tips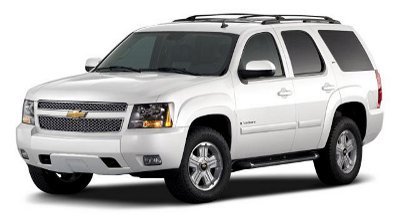 Among the big sport utility vehicles, the Chevrolet Tahoe is one of the largest, offering room for up to nine passengers and the on- and off-road versatility its owners demand. Now in its third generation, sales of the Chevy Tahoe are running strong despite higher fuel prices and a trend towards car-based SUVs or crossovers.
First Generation
Introduced in 1995, the Tahoe is the slightly smaller brother to the Chevrolet Suburban, a massive SUV with even more interior room and offering better overall payload and towing capacity. The original Tahoe seated no more than six passengers and looked more like Chevrolet's full size pickup truck with a cap, now called the Silverado, than an SUV. Powered by a 5.7-liter V-8, this two- and four-wheel-drive vehicle is paired with a 5-speed manual or 4-speed automatic transmission rated 200 horsepower at 4,000 rpm and 310 foot-pounds of torque at 2,400 rpm. That model also offered an optional diesel engine, something not offered in subsequent generations. Though not quite the work beast today's Tahoe is, the first generation model has a 7,000 pound maximum towing capacity.
Second Generation
When the second generation Chevy Tahoe hit the market in 2000, it did so on the heels of GM's new full-size pickup trucks. Unlike the original run which offered two- and four-door options, the Tahoe became a four-door only model with a stretched out storage area and room for up to nine passengers. The original engines were replaced, with 4.8- and 5.3-liter gasoline V8s taking over. Power increased too with the smaller V-8 offering 275 hp and 290 lb.-ft. of torque. The larger V-8 offers marginally better performance, rated at 285 hp and 325 lb.-ft. of torque. Towing capacity, however, increased to 8,700 pounds.
Third Generation
GM decided not mess with a good thing when the third generation Chevy Tahoe made its debut in 2007, retaining both engines at the start. Today, only the 5.3-liter V-8 remains, now offering 320 hp at 5,400 hp and 335 lb.-ft. of torque at 4,000 rpm. This engine employs active fuel management, technology which shuts down four of the eight cylinders when they're not needed. Both the two- and four-wheel-drive models feature 8,500 pound towing capacity, which beats the Toyota Sequoia.
Yes, there is a hybrid model available which may seem strange for a vehicle in this class. This specialized vehicle is powered by a 6.0-liter V-8 and delivers 20 mpg city, 23 mpg highway. And, just like the regular Tahoe, this model can tow large loads and handle steep grades.
Outfitting the Tahoe your way comes easy thanks to an aftermarket parts market which offers fenders, grilles and hoods as well as deflectors, bed accessories and roof racks. Yes, lowering springs, lift kits and other suspension parts are also available as are superchargers, headers, cold air intakes and other performance enhancing parts.
The list of brands offering exhaust parts and systems for the Tahoe is extensive:
Share your thoughts, post a comment.