Durango Exhaust Videos
Durango Exhaust System Tips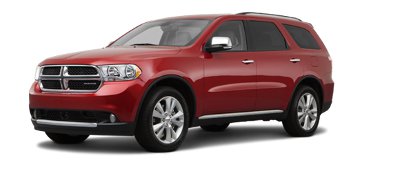 The current Dodge Durango is a seven-passenger sport utility vehicle, based on the same platform underpinning the Jeep Grand Cherokee. Longer and slightly heavier than its Jeep counterpart, this SUV ditched its truck-based construction for 2011, embracing the same unibody construction most of today's SUVs embrace.
Introduced in 1998 and originally powered by the same chassis used by the Dodge Dakota pickup truck, the Dodge Durango is now in its third generation. No 2010 model was produced as Chrysler sought to restructure itself and the various brands and models it sells.
First Generation
When it made its debut in late 1997 for the 1998 model year, the two- and four-wheel-drive Dodge Durango offered three engine choices: a 3.9-liter V-6 and 5.2- and 5.9-liter V-8 engines. Each engine is paired with a four-speed automatic transmission. The base engine is rated at 175 horsepower, 225 foot-pounds of torque, the smaller V-8 at 230 horsepower and 300 foot-pounds of torque and the bigger V-8 at 245 horsepower and 335 pound-feet of torque. Both V-8s were replaced with single 4.7-liter V-8 in 2000, rated at 235 horsepower and 295 foot-pounds of torque.
From the start, the Dodge Durango featured class leading towing capacity of 7,300 pounds and 88 cubic feet of storage space with the seats folded down. Chief competitors included the Ford Explorer and Chevy Blazer, besting both models by offering a functional roof rack, aluminum wheels and a forward facing third row seat as standard equipment.
Second Generation
For 2004, the second generation Dodge Durango rolled out. The timing was perfect as America's appetite for SUVs was on the upswing and this model had something for everyone. Powered by a standard 3.7-liter V-6 engine paired with a four-speed automatic transmission, this engine is rated at 210 horsepower and 235 foot-pounds of torque.
Optionally, 4.7- and 5.7-liter V-8s were offered and mated to five-speed automatic transmissions. Performance for the smaller V-8 was now 230 hp and 290 lb.-ft. of torque while the larger V-8 delivers 345 hp and 375 lb.-ft. of torque. Towing capacity was now increased to 8,900 pounds.
Third Generation
For 2011, the all new Dodge Durango follows the new Jeep Grand Cherokee to the market. This model is powered by a 3.6-liter V-6 rated at 290 horsepower and 260 ft.-lbs. of torque. Optionally, the beefy 5.7-liter V-8 returns, cranking out 360 hp and 390 lb.-ft. of torque. Both engines are paired with 5-speed automatic transmissions. Rear-wheel-drive is still standard, but all-wheel-drive has replaced four-wheel-drive and maximum towing capacity has been reduced to 7,300 pounds.
Whether taking your Durango out on the road to haul your camper or boat or off-road for some puddle jumping or ditch skipping, your ride can benefit from unique parts not usually found on showroom models. Grill guards, side bars and door sills can give your SUV a unique look offering you the style you want or the function needed to protect its coat.
The list of brands offering exhaust parts and systems for the Durango is extensive:
Share your thoughts, post a comment.