Will An Exhaust System or Muffler Improve Gas Mileage?
Exhaust system and muffler manufacturers make a lot of claims about their products. Understandably, consumers are a little skeptical when an exhaust kit claims to both increase horsepower AND improve gas mileage. After all, aren't performance and gas mileage mutually exclusive?
The thing is, mufflers and exhaust systems DO improve gas mileage. Here's why:
1. Exhaust systems and performance mufflers don't add power – they improve efficiency.
Almost every new vehicle comes with a restrictive factory exhaust system. The reason? Restrictive exhausts are both quiet to the ears and inexpensive to build. Since automakers are building cars for everyone – and since some people decidedly don't want a car that makes noise – factory exhaust systems are usually designed to be quiet. Because automakers cut costs on exhaust systems, this quietness is achieved by making a restrictive system.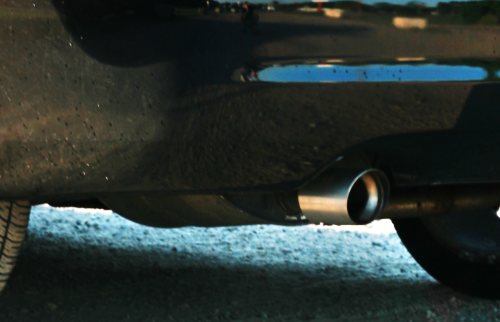 A restrictive factory exhaust pipe. Image copyright Ben Frantz Dale
When a factory exhaust is replaced with an after market muffler or cat-back system, there's less restriction in the exhaust. "Less restriction" means the engine exhales a little easier. This improves efficiency, and that means the engine suddenly has a little more power. However, nothing was "added" – the additional power was always there. You just needed a better exhaust system to find it.
2. Efficiency isn't just about horsepower
An efficient engine isn't necessarily powerful. For example, the gas engine in a hybrid is incredibly efficient, but rarely are these engines considered "powerful." Efficiency means that an engine gets as much energy as possible out of the diesel or gasoline it uses for fuel. Therefore, improvements in efficiency improve power…but what if that power isn't used to go faster?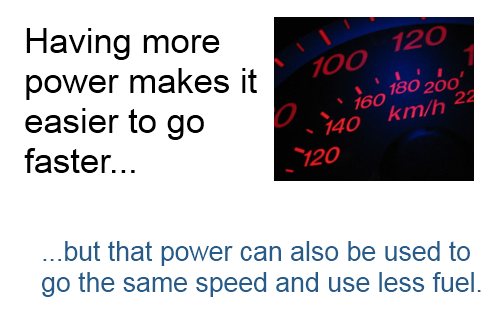 Speedometer image copyright PowerBookTrance
If you can make your engine 3% more powerful, you'll need 3% less fuel to do the same amount of work, right? Exhaust systems, depending on the system or muffler you choose and the vehicle they're installed on, typically improve power by about 2-5%. If you're driving a 2008 Ford F-150, for example, your truck probably gets about 16mpg. Adding an exhaust system might improve power 3%. If you don't use that extra power to go faster and drive the exact same way you did before, you'll see a 3% improvement in fuel economy.
A 3% fuel economy improvement on an 08′ F150 with an exhaust system means about a 0.5 mpg gas mileage improvement. While that might not sound like much, consider this: If gas costs $3 a gallon, and your drive this truck 15,000 miles a year, you're saving yourself about $85 a year on gas. In five years, you'll have saved nearly enough money to pay for a complete cat-back exhaust system.
Not to mention that you've got an extra 3% of power when you need it (like while towing or hauling), or the fact that your truck will sound a lot meaner too.
3. Small cars can benefit the most
If you have a truck with a big V8, your engine is so powerful that it can push past a restrictive factory exhaust system pretty easily. However, if you have a small displacement 4-cylinder, adding a less-restrictive muffler can boost efficiency tremendously – sometimes as much as 10% (only 5% is more common). Adding an HKS Hi-Power exhaust to a 2005 Subaru WRX improves power output about 8%, which means fuel economy should improve by about 2mpg.
Obviously, boosting fuel economy by 2 mpg is going to help pay off a new exhaust system pretty quickly.
Bottom Line: Adding an after-market performance muffler or exhaust system will improve engine efficiency from 2-10%. Improvements in efficiency can be used to either increase horsepower or improve fuel economy.
Whether this efficiency is used to go faster or to get better fuel economy is up to you and your foot!