Ford F250 Exhaust Videos
Ford F250 Exhaust System Tips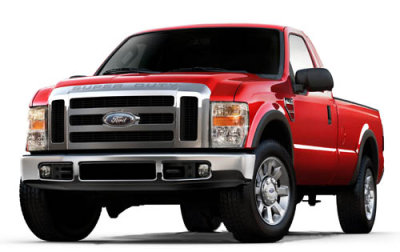 Also known as a SuperDuty, the F-250 is the nearly identical twin of Ford's larger F-350. Between the years of 1999 and 2010, Ford offered the following engines on the F250:
A 5.4L V8, identical to the 5.4L found in the F-150.
A 6.8L V10 that gained sophistication and power over most of the last decade. The V10 can be found in everything from regular cab work trucks to large motor homes – it's an engine with a very wide range.
A 7.3L Diesel V8, the most popular of many PowerStroke diesel engines offered by Ford.
A 6.0L Diesel V8, plagued by problems when it was launched in 2003, the 6.0L went on to become one of Ford's most powerful truck engines of all time.
A 6.4L Diesel V8, the last of the Navistar-sourced diesel engines.
A 6.7L Diesel V8, a brand-new diesel designed and built completely by Ford. This is different than previous diesel engines, which were built and designed by Navistar.
If you own an F250 with a gas engine, you'll find that there are quite a few after-market mufflers and cat-back exhaust systems available. On 5.4L F250's, an exhaust system is a great way to gain some more power for an engine that might be a little under-sized for the truck. For a V-10 F250, a less-restrictive exhaust system might save some fuel.
Diesel F250 owners have a tremendous number of performance accessory options, and one of the most important is an after-market exhaust system. In order to minimize cost and to try and make the trucks a little quieter, Ford placed fairly restrictive exhaust systems on their diesel trucks. After-market Ford diesel exhaust systems can add significant amounts of power – as much as 40lb-ft of torque – but this can sometimes come with a trade-off in noise.
If you're considering adding a less-restrictive exhaust to your diesel truck, you can expect:
Better throttle response
Improved fuel economy
More noise, but not necessarily harsh noise. In fact, many after-market diesel exhaust systems emphasize the sound of the turbocharger's turbine, making your truck sound more like a jet engine than a rattling, crackling diesel.
As always, you get what you pay for when it comes to after-market exhaust systems. Less expensive systems are louder and harsher than more premium options. Some of the more popular exhaust system manufacturers for the F-250 are:
F-250 Exhaust Recommendations
1. Diesel owners must be aware of exhaust gas temperatures. If your truck doesn't already have one, a pyrometer is a smart add-on that you can have installed at the same time you're adding a new exhaust system to your rig.
2. Like all trucks, knowing your wheelbase is important. With two bed lengths and three cab styles – not to mention some re-designs during the last few years – there are a lot of different possible F-250 configurations. SO, be sure you know what your truck's wheelbase is before you order a diesel exhaust kit.
3. Look closely at diesel performance packages. Some of Ford's older diesel trucks can benefit quite a bit from a combination of a new air intake, new exhaust, power programmer, and some odds and ends. While some diesel owners suffer from sticker shock the first time they check out a Banks Power Pack, the kits are nothing short of amazing when it comes to improving performance and fuel economy without impacting reliability.
If you own a Ford diesel, you owe it to yourself to take a look at a kit from Banks.
Share your thoughts, post a comment.