Ford Focus Exhaust Videos
Ford Focus Exhaust System Tips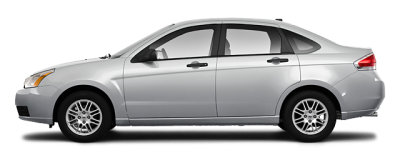 With European-inspired suspension and American ingenuity, the Ford Focus is a surprisingly capable track car when properly modified. The front-rear suspension balance is superb for a front-wheel drive car, which means it handles very, very well in the curves. While there's not a lot of performance that can be squeezed out of the factory engines (Ford did a pretty good job of squeezing at the factory), there are definitely some benefits in upgrading the exhaust.
Because the Focus was marketed as a family economy car/commuter car, Ford emphasized a quiet, low-cost exhaust design. As we all know, low-cost exhausts achieve quiet operation by restricting exhaust flow…which means reduced performance. Adding an after-market performance muffler to a base-model focus will improve low-end torque and boost horsepower while making the engine louder (how much louder is up to you).
During the last few years, Ford has offered the following engines on the Focus:
A 2.0L Zetec 4 cylinder that has a strong race following in Europe.
A 2.0L Duratec 4 cylinder that offers a good combination of performance and efficiency.
A surprisingly torquey 2.3L Duratec 4 cylinder that was standard equipment on the Focus ST, a performance version of the Focus offered by the factory.
Not many people realize that Saleen offered a performance version of the Focus. Even fewer people know that the Saleen kit – which boosted performance nearly 10% – was nothing more than a new air intake and a less restrictive exhaust. Again, because Ford used a cheap exhaust system at the factory, there's a lot to be gained by adding an after-market exhaust kit or muffler.
The best part? Most of the after-market exhaust options for the Focus are very affordable. Here are some recommended exhaust system brand names:
When it comes to choosing one system over another, here are some things to keep in mind:
1. How loud are you willing to go? A head rattling roar is definitely cool at the track, but will your neighbors enjoy it when you get up to go to work in the morning?
2. Are you adding on other performance parts? Sometimes the smartest way to buy an exhaust system is if it's part of a larger performance package. If you can buy an intake and exhaust from the same company, you'll often see a multiplying effect (Injen offers an air intake for most Focus models)
3. Exhaust kits and air intakes are your best performance dollar. When it comes to maximizing the power of your Focus, intake and exhaust are where it's at. Unless you've got the money and time to go with a turbocharger or supercharger, this is it…so you don't necessarily want to go cheap on either of them.
Share your thoughts, post a comment.