Accent Exhaust Videos
Accent Exhaust System Tips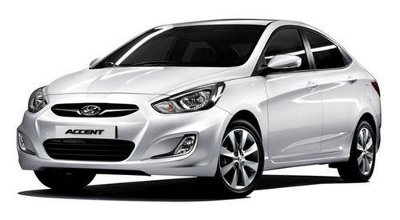 First sold in 1995, the subcompact Hyundai Accent has been favored by young drivers who are looking for an inexpensive price point for buying their first car. Available in three-door hatchback and four-door sedan, the Accent has also proven to be one of the better built cars in its class and is perfect for aftermarket enhancements to help improve acceleration and overall performance.
Priced from $9985, the 2011 Hyundai Accent is the cheapest car sold in America. Early first generation models can be had for under $1,000, putting used Accents within the reach of car shoppers everywhere.
First Generation
When introduced, the Hyundai Accent offered a 1.5-liter four cylinder engine rated at 92 horsepower at 5,500 rpm and 96 foot-pounds of torque at 3,000 rpm. The earliest models weighed just over 2,000 pounds, lacking the weight inducing safety equipment found in today's models. Thus, the engine was sufficient to move the Accent, although with performance chips, cold air intakes and other horsepower improving products available for enthusiasts, that power can be easily extended. The first generation Hyundai Accent was sold for five model years.
Second Generation
Spanning the 2000 to 2005 model years, the second generation Hyundai Accent was new inside and out, but under the hood the same four cylinder engine was found. In 2001, a 1.6-liter engine joined the line up and became the sole engine for the Accent by 2003. Rated at 104 horsepower at 5,800 rpm and 106 foot-pounds of torque at 3,000 rpm, the Accent was now 200 pounds heavier and five inches longer, offering improved legroom for rear seating passengers.  A 5-speed manual transmission was standard and a 4-speed automatic optional.
Third Generation
Sold since 2006, the third generation Hyundai Accent is approaching the end of its life cycle. As before, the Accent represents value — not just in price, but with Kia's comprehensive extended warranty. Moreover, this model has received favorable remarks from automotive critics and retains its value well.
The 1.6-liter four cylinder engine introduced with the second generation model still powers the current generation Accent and is now rated at 110 horsepower at 6,000 rpm and 106 foot-pounds of torque at 4,500 rpm. Both transmission choices have been carried forward with the automatic offering the better fuel economy at 36 mpg highway.
Accent fans happily upgrade their rides, improving handling, swapping out seats and tweaking their transmissions and engines to squeeze out more performance. Parts are reasonably priced too which gives the Hyundai Accent owner an advantage over the Honda Fit, Toyota Yaris, Nissan Versa and other subcompact stars.
There are a few companies producing exhaust systems for the Hyundai Accent:
Share your thoughts, post a comment.