Wrangler Exhaust Videos
Wrangler Exhaust System Tips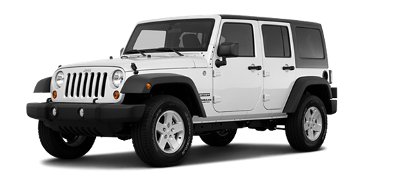 The Jeep Wrangler traces its origin to the first government purpose or "GP" built in the earliest years of America's involvement in World War II. GP or "Jeep" as they were later called, represents the oldest off-road vehicle in the world, marking its 70th anniversary in 2011.
Today's Jeep Wrangler shares a striking resemblance to the original models built by Willys-Overland and by the Ford Motor Company, with "Willys" winning the right to produce Jeeps for public consumption after the war. The Wrangler name dates to 1987, when Jeep was still part of the American Motors Company, replacing various "CJ" appellations used since 1944.
Wrangler Generations
Beginning in 1987 with the first generation Jeep Wrangler, this 4×4 vehicle was powered by a 2.5-liter four paired with a 5-speed manual transmission. Optionally, a 112 horsepower 4.2-liter inline 6 paired with a 5-speed manual or 3-speed automatic was available, replaced in 1991 by a 4.0-liter inline six still in use today, but not found in the Wrangler. That engine carried a 180 horsepower rating upon its debut.
Body and engine choices have always been slow to kick in with the Wrangler, although the first two-wheel-drive models were introduced for a few years beginning in 2007. That move flied in the face with what Jeep is all about: trail-rated capability above all else. Parent Chrysler was now chasing sales at the expense of Jeep heritage, introducing a four-door Wrangler at the same time.
Wrangler Designations
Wrangler fans go with the same two-letter designations assigned to each generation by Chrysler, respectively the YJ, TJ and JK, to identify these vehicles. In 1997, with the TJ's introduction, the Wrangler kept the earlier engines, but by 2003 the aged 2.5-liter was replaced by a 2.4-liter four paired with a 5-speed manual or 4-speed automatic transmission. The base 2003 Wrangler engine carries a 147 hp rating at 5,200 rpm and 165 foot-pounds of torque at 4,000 rpm.
With the JK's debut in 2007, the Wrangler line expanded to include the four-door option, a choice that is still available today. The 4×2 model was also introduced, but dropped for 2011. Both of the earlier engines were discontinued, replaced by a lone 3.8-liter V-6 currently rated at 202 horsepower at 5,200 rpm and producing 237 foot-pounds of torque at 4,000 rpm. A 6-speed manual transmission is standard and a 4-speed automatic is optional.
Wrangler Roading
Nothing defines a Wrangler more than its off-road capabilities, with buyers choosing various packages to take their rides where few other makes dare to go. Serious off-roaders opt for lift kits, chrome front bumpers, stainless steel grill guards and winches as well as rock crawlers, axles, differentials and exhaust parts. Customized parts for the exterior to go with special seats, floor mats and trim for the cabin.
The list of brands offering exhaust parts and systems for the Wrangler is extensive:
Share your thoughts, post a comment.