RX-8 Exhaust Videos
RX-8 Exhaust System Tips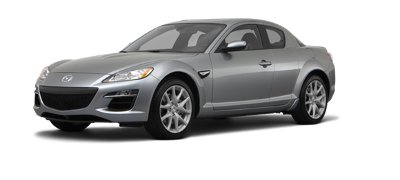 To say that there isn't another car like the Mazda RX-8 is speaking the truth. Powered by a 1.3-liter Renesis rotary engine, this four-seat sports car features near perfect 50-50 weight distribution and all the zoom-zoom Mazda fans expect.
Rotary Heritage
Mazda has four decades of rotary engine experience to stand on, the only major manufacturer in the world using this technology today. Like a piston engine, a rotary engine is an internal combustion engine, but the similarities between the two motors ends there. Intake, compression, combustion and exhaust are handled in separate areas of the rotary engine's housing, allowing such engines to produce more power in a smaller environment.
Introduced in 2004, the Mazda RX-8 is a quad coupe featuring two standard side doors and two very short, back doors allowing for easier egress to the rear seating compartment while allowing this car to retain its sport coupe flair. Indeed, there is no pillar between door openings to spoil its body lines, providing a near seamless look you'd find in most any car of its kind.
RX History
The RX-8 is just one in a long series of RX models beginning with the RX-100 in 1971 and followed by the RX-2, RX-3, et al, since. There was no RX-6 model and the RX-7 was produced for three generations before being discontinued in North America following the 1995 model year. Produced in Japan and sold in various markets through 2002, the RX-7 gave way to the RX-8 in 2003. Thus, the model sold today is the same we've seen for most of the past decade although in 2009 the RX-8 benefited from a significant mid-cycle refresh.
The Mazda RX-8's rotary engine is different from earlier offerings as this one moves the exhaust ports from the outer edge of the rotary's housing to the side of the combustion chambers. That move increased power, lowered fuel consumption and dropped emissions.
Potent Engine
When paired with a 6-speed manual transmission, the Mazda RX-8 is rated at 232 horsepower at 8,500 rpm. Pair it with a 6-speed automatic and the engine is rated at 212 horsepower at 7,500 rpm. Torque is 159 pound-feet at 5,500 rpm for both arrangements; you can redline your RX-8 at 9,000 rpm with the manual and 7,500 rpm with the automatic.
In 2009, Mazda improved body rigidity, incorporating a trapezoidal strut tower bar and by enhancing the rigidity of the front suspension tower areas. Other changes affected gearing; together these changes have made the Mazda RX-8 faster while improving handling.
Performance buffs are treated to a slew of aftermarket Mazda RX-8 parts, useful for enhancing performance or customizing its appearance. Exhaust systems can deliver a unique note while various handling improvement features such as sway bars, lowering springs and coilovers to beef up the suspension.
A few of the brands offering exhaust parts and systems for the RX-8 are:
Share your thoughts, post a comment.