Pathfinder Exhaust Videos
Pathfinder Exhaust System Tips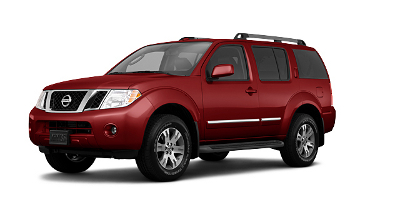 There are body on fame SUVs and there are unibody SUVs, the latter known simply as "crossovers" and representing one of the hottest segments in the car industry. The number of vehicles found in the former category continues to shrink with the venerable Ford Explorer making the crossover switch for 2011. For Nissan Pathfinder faithful, that transition hasn't happened, giving enthusiasts the truck-like driving they demand.
Pathfinder History
Introduced to the US market in the late 1980s, the Nissan Pathfinder continues to be sold in rear- and four-wheel-drive configurations, the latter offering true off-road capabilities. Earlier models were smaller, lighter and much more unrefined than today's Pathfinder, powered by a 2.4-liter four cylinder engine paired with a 5-speed manual or a 3.0-liter V-6 paired with 4-speed automatic or 5-speed manual transmissions.
The second generation Nissan Pathfinder made its debut in 1996, spanning nine model years before it was updated. Initially, those Pathfinders were powered by a 3.3-liter V-6 engine, later updated to a 3.5-liter V-6.  The earlier engine is rated at 168 horsepower at 4,800 rpm and 196 pound-feet of torque at 2,800 rpm. With the introduction of a 24-valve double overhead cam engine in 2001, power increased substantially to 240 horsepower at 6,000 rpm and 265 foot-pounds of torque at 3,200 rpm. With this engine update, the Pathfinder's towing capacity increased to 3,500 pounds, increasing further to 5,000 pounds toward the end of this model's second generation run.
Today's Pathfinder
The third generation Nissan Pathfinder has been in production since 2005 and is now powered by a 4.0-liter V-6 paired with a 5-speed automatic or, with select four-wheel-drive models, is equipped with the same 5.6-liter V-8 engine found in the Titan truck and the larger Armada SUV.  Today's Pathfinder is bigger and heavier still, featuring three rows of seats and room for seven occupants.
The base engine of the current Pathfinder produces 266 horsepower at 5,600 rpm and 288 foot-pounds of torque at 4,000 rpm. The Nissan Pathfinder LE, a 4×4 model equipped with a V-8 engine, delivers 310 horsepower at 5,200 rpm and 388 foot-pounds of torque at 3,400 rpm. Towing capacity is 6,000 pounds for the V-6 and 7,000 pounds for the V-8.
Off-road Enhancements
Though off-road ready as delivered, every four-wheel-drive Nissan Pathfinder can benefit from owner installed enhancements to improve that capability. Grille guards, mud flaps, side steps and fender flares protect the Pathfinder's body and enhance its appearance, with suspension kits able to improve versatility and a winch providing the lifeline you may need to extract your SUV from a tough situation.
A brand offering exhaust parts and systems for the Pathfinder:
Share your thoughts, post a comment.