Sentra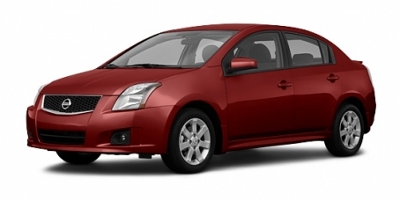 The Nissan Sentra was one of the first models sold in the United States that wasn't a Datsun, although for the first few years of its existence, both Nissan and Datsun names were affixed to its truck deck lid. Introduced in 1982, the Sentra is a compact car and one of the best selling Nissans models though the Sentra name is not used in Japan where the car is built.
Sentra Competition
Like the Honda Civic, the Sentra began life as a subcompact sedan, enlarged to compact status beginning in 2000. Today, the Sentra competes against the Civic and many other "C-segment" models including the Toyota Corolla, Ford Focus, Chevrolet Cruze, Mazda 3, Volkswagen Jetta, Hyundai Elantra and Kia Forte.
The third generation Nissan Sentra was sold from 1991 to 1994 and was powered by a 1.6-liter four cylinder engine rated at 110 horsepower or a 2.0-liter four with a 140 horsepower rating. Standard transmissions were 5-speed manuals with optional 3- and 4-speed automatics available. Coupe and sedan body styles were available during those years.
Beginning in 1995, the Nissan Sentra was offered only as a sedan with the coupe restyled and renamed the 200SX. The latter quickly appealed to the tuner set who enjoyed working with various "SX" models dating back to the early 1980s. Both engine and transmission combinations used in the third generation model returned although horsepower for the base engine improved to a 115 rating.
Enlarged Sentra
With the arrival of the fifth generation Nissan Sentra in 2000, the model was enlarged and recategorized as a compact car. The larger 2.0-liter I-4 remained and was offered only with the Sentra SE, with the other trim levels outfitted with Nissan's new 1.8-liter four rated at 126 horsepower at 6,000 rpm and 129 foot-pounds of torque at 2,400 rpm.
In later years, the 2.0-liter four was replaced by a potent 16-valve 2.5-liter four rated at 165 horsepower at 6,000 rpm and 175 foot-pounds of torque at 4,000 rpm. Standard in the Sentra SE-R, the larger engine is paired with a 6-speed manual transmission and is still used today. That model is Nissan's answer to the Mazdaspeed 3, Mitsubishi Lancer GTS, Honda Civic Si and the Subaru Impreza WRX, top tuner models all.
Today's Sentra
The current Nissan Sentra is approaching the end of its sixth generation, a model making its debut in 2007 and sharing the design language used in the larger Altima and Maxima models.  The Sentra SE-R Spec V Sedan is the most powerful model yet, rated at 200 horsepower at 6,600 rpm and 180 foot-pounds of torque at 5,200 rpm. Edmunds recorded a 6.7 second 0 to 60 mph time in 2011.
Aftermarket tuners are able to fulfill their need for speed by equipping Sentras with performance exhaust systems, headers, cold air intakes and array of speed inducing parts. Accessories are popular too including sport mirrors, fog and tail lghts and fender extensions.
Brands offering exhaust parts and systems for the Sentra:
Share your thoughts, post a comment.