Toyota Supra Exhaust Videos
Toyota Supra Exhaust System Tips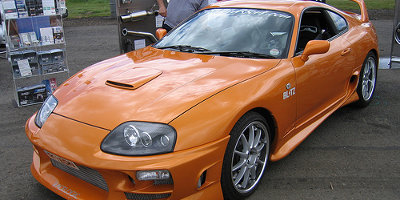 The last-generation Toyota Supra has the rare distinction of being simultaneously one of the most celebrated and yet still under-the-radar performance cars of the past 15 years. Depending upon which car subculture you claim as your own, the Supra is either a world-beating package of turbo potential, or a rarely-seen, limited production Toyota coupe that never really caught on with the general public.
For those in the former camp, the Supra offers an aspirational drag platform that has spawned an entire industry of aftermarket performance parts. This includes a vast number of exhaust companies seeking to cash in on the Supra's image as an affordable, high-horsepower monster.
There are two engines available with the most recent edition (1993-1998) of the Toyota Supra:
A 3.0L inline six-cylinder offering up 220 horsepower in the base model.
A twin-turbocharged 3.0L inline six-cylinder producing 320 horsepower and 315 lb-ft of torque – the vaunted 2JZ-GTE motor.
The naturally-aspirated 3.0L unit is not a bad performer for a grand touring car, but the amount of power locked up inside the 2JZ-GTE is simply phenomenal. With a little work, even on stock internals, this engine can be boosted well past 600 ponies, with some Supras passing even the 1,000 horsepower mark. As with any turbo car, an aftermarket exhaust system can be a crucial component of producing maximum engine output.
There are many different brands which provide exhaust components for the Supra:
You will notice that these names are primarily big players in the Japanese performance parts world. Domestic exhaust companies seem to have largely ignored the Supra, which is admittedly a niche market. If you are dead set on sticking to American exhaust brands, then you will probably be able to locate some universal mufflers that will fit under the Supra. However, the above-listed names are your best option for well engineered performance solutions. The TRD option is particularly appealing, as it represents a factory-designed catback system which has recently been put back into production.
Toyota Supra Exhaust Recommendations
1. Approach the car as a complete system. Turbo cars need a lot of air going in and a lot of air going out to make maximum power. Don't forget about headers and down pipes when browsing mufflers and catbacks.
2. Consider your ultimate performance goals. A four-inch exhaust might flow freely and sound like a pack of fighter jets hover just behind your rear bumper, but unless you are shooting for enormous horsepower numbers on the dyno you would probably do better to balance noise and performance for daily driving purposes.
3. You will attract attention with a loud exhaust. One of the nice aspects of Supra ownership is that in stock form, it doesn't really stand out compared to more exaggerated performance coupe designs. Slap some loud pipes on it and that will change quickly. Be prepared for second looks from boy racers and local law enforcement.
Share your thoughts, post a comment.