Scion tC Exhaust Videos
Scion tC Exhaust System Tips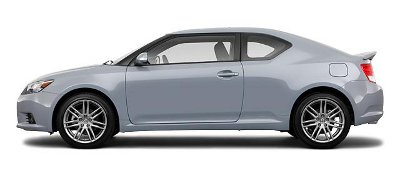 The Scion tC is a compact sport coupe, about the size of a Toyota Corolla, but similar in looks to the now retired Toyota Celica. Where the Corolla is square shouldered and comparatively bland in appearance, the tC offers sweeping lines and an appealing sporty visage, successfully picking up the Celica mantle.
First Generation
The first generation Scion tC was produced from 2005 to 2010. This two-door hatchback is powered by a capable 2.4-liter 16-valve four cylinder engine, initially rated at 160 horsepower at 6,000 rpm and 163 foot-pound of torque at 4,200 rpm. A 5-speed manual transmission is standard; a 4-speed automatic optional.
Scion is all about appealing to young drivers, targeting 18-30 year olds who want the most car for the buck. Offering room for five, the tC has excellent rear passenger legroom and plenty of room for front occupants. The car has attracted a huge customization market. Indeed, the Toyota Racing Development department has gotten into the mix by offering a supercharger for the Scion, enabling the first gen coupe to achieve a 200 hp rating and produce 184 foot-pounds of torque.
Second Generation
Completely redesigned for 2011, the second generation Scion tC gains the same engine powering the much larger Toyota Camry and other Toyota models. It has also made up for one of the first generation's few deficiencies, which was its transmission. For 2011, the Scion tC is paired with a 6-speed manual or optional 6-speed automatic with shifting capabilities. Significantly, performance has increased and the tC is now rated at 180 horsepower at 6,000 rpm and 173 foot-pounds of torque at 4,100 rpm.
Notable Scion tC competitors include the Mitsubishi Eclipse, Mazda 3 and Honda Civic with the next generation Ford Focus and 2012 Hyundai Veloster also expected to give tuner fans something to consider.
Radical Refitting
Both generation Scion tCs beg for customization, something Toyota encourages by producing its own Toyota Racing Development parts. Included in that mix is a quick shifter, designed to shorten the coupe's throw by 30 percent, a rear sway bar, lowering springs and sport pedals among other parts.
Toyota isn't the only one who has gotten in on the Scion aftermarket parts action as Borla has developed a tC spec bolt on rear section, providing improved air flow and the sweetest exhaust note to go with it. Muffler tips, strobe lights, front grilles, bumper lips and spoilers are among the many tuner favs available, enabling tC owners to get personal with their rides.
Several brands offering exhaust parts and systems for the Scion tC are:
Share your thoughts, post a comment.