Dakota Exhaust Videos
Dakota Exhaust System Tips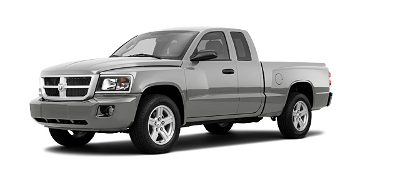 The Dodge Dakota, now known as the Ram Dakota, was launched in late 1986 for the 1987 model year. This model, the first compact truck built by Dodge, replaced various Japanese built models that were supplied to it by Mitsubishi since the 1970s.
The Dakota was the last of the three home grown compact trucks introduced to the market, following the Ford Ranger and the Chevrolet S10/GMC S15t. Until its release, American car manufacturers found it impossible to compete with Japan's cheaper imports, but a 25 percent tariff on compact import trucks made building trucks in America a viable option. That tariff remains in place today.
Dakota Competitors
Chief competition for the Dakota today includes the Ford Ranger, Chevrolet Colorado, Toyota Tacoma and Nissan Frontier. Other manufacturers including Mitsubishi, Suzuki and Isuzu once competed in the segment or still with rebadged trucks. Today's Suzuki Equator, for instance, is a rebadged Nissan Frontier.
Since its inception, the Dakota has been available in rear- and four-wheel-drive, various cab and truck configurations, and continues to be built on a traditional truck chassis. The first generation trucks were powered by a standard 2.2-liter K-Car derived four cylinder engine paired with a 5-speed manual transmission. Optionally, a much larger 3.9-liter V-6 engine was offered, paired with a 5-speed manual or 3-speed automatic transmission.
Earlier Engines
By 1992, the original engine line was updated with the base four bumped up to 2.5-liters and the V-6 paired with an optional 4-speed automatic. Dodge also introduced a 5.2-liter V-8 engine, joined a few years later by the largest engine of all: a 5.9-liter V-8. Dodge kept the 4/6/8 engine arrangement in place through 2002, before discontinuing the four. By then, the Dodge Dakota and the Toyota Tacoma were more midsize than compact, powered by potent engines and offering top of the range payload and towing capacity.
For 1997, when the second generation Dakota made its debut, the Dakota's three engines delivered 120, 175 and 230 horsepower ratings respectively. In 2005, with the advent of the third generation Dakota, new engines were introduced too. A 3.7-liter V-6 was rated at 210 hp and the 4.7-liter V-8 at 230 hp with a high-out version rated at 250 hp. Dodge now used 6-speed manual transmissions and 4- and 5-speed automatics to move the Dakota.
Ram Change
Today's Dakota is still powered by the same engines, but the truck is now called Ram Dakota to emphasize the sub-brand by which it is now identified. The current Dakota is still offered in regular, extended and quad cabs and are regularly customized by enthusiasts who opt for performance brake pads, cold air intakes, bumper and grille guards, muffler tips and a host of other quality aftermarket parts.
The list of brands offering exhaust parts and systems for the Dakota is extensive:
Share your thoughts, post a comment.